The Age reports Susilo Bambang Yudhoyono, former general turned populist President, was shielded from the morning sun by a traditional farmer's straw hat festooned with the red and white of the Indonesian flag as he bent and cut a sheath of rice to begin a harvest outside the West Papuan town of Merauke.

More than 1000 farmers and officials, mostly Javanese moved under Indonesia's transmigration program, cheered his words on Wednesday promising to transform the region into a major agricultural producer. They also lapped up his warning to Australia - and other foreign "meddlers" - against supporting festering independence sentiments in the troubled province.
Merauke, at the nation's south-eastern corner, had held a special place in Indonesia's 220 million hearts, Yudhoyono said, citing the nationalist song From Sabang to Merauke proclaiming the unity of the diverse archipelago. "Avoid negative opinions towards Government policy," he said. "Let's respect the unitary state of the Republic of Indonesia. We fight for it, we defend it, we nurture it in our nationalist spirit."
The symbolism would have done little to win over indigenous Papuans who last month battered to death five security officers in the capital, Jayapura, during a protest against the biggest symbol of Indonesian rule of this resource-rich Melanesian land, the massive Freeport gold mine. The President's flying visit bypassed Jayapura and local leaders campaigning against Jakarta's inequities."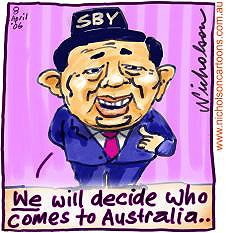 Nicholson in The Australian